Building & Zoning
Information, Inspectors, & Members
Building & Zoning

For Woodstock Township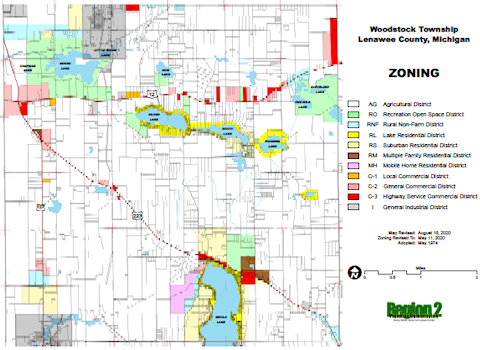 ---
Zoning Compliance Permit Information
20.41 issuance of Zoning Compliance Permits. No building or structure, or part thereof, shall hereafter be located, erected, constructed, reconstructed, altered, converted, or enlarged or moved; nor shall any change be made in the use of any building, structure, or land without a Zoning Compliance Permit having been obtained from the Zoning Inspector for such building, structure, or land. A zoning compliance application shall be filled out and submitted to the Zoning inspector.
20.4.2 Permit Application Requirements. The Zoning Inspector shall require that all applications for zoning compliance permits shall be accompanied by plans and specifications including a plot plan in duplicate drawn to scale, showing the following information:
The actual dimensions and shape of the lot to be built upon;
The exact Size and location of existing structures on the lot, if any; and,
The location and dimensions of the proposed structure or alteration.
The front, rear and side measurement of any building to the adjacent lot lines.
Proof of a driveway permit from the proper road authority for any new construction or on any driveway which may be questionable.
One copy of ownership and legal property description.
One (1) copy of the plans shall be returned [6 the applicant by the Zoning Inspector after such copy has been approved or disapproved, and attested to same by the Zoning Inspector's signature on such copy. The Zoning Inspector shall retain the original copy, similarly marked, for his files. Whenever the buildings, structures, and uses as set forth in the application are in conformity with the provisions of this Ordinance, the Zoning Inspector shall issue the applicant a zoning compliance permit within five (5) days of the filing thereof. Where action of the Board of Appeals or the Planning Commission is required in any case, as set forth in this Ordinance, the Zoning Inspector shall issue such permit promptly following such action.
Fees
Zoning Compliance Permit - $80.00
Zoning Board of Appeals (variance) - $320.00
Woodstock Township
Inspectors
Permits along with building and zoning forms can be found on the forms page of this website.
Zoning/Ordinance Administrator
Tuesday - Thursday: 8 am - noon
All Other by Appointment
Electrical Inspections
All Weekdays: After 3:30 pm
Unless scheduled with inspector in advance.
Planning Commission
Members
John Nicholl-Chair
Michael Holmes-Vice Chair
Jonie Wheaton-Secretary
John D. Clark-Liaison
Diana Crawford
Brittany Stein
Robert Turner Jr.

Zoning Board of Appeals
Members
Bill Fetter-Chair
Michael Holmes-Liaison
Ashley Wilson-Alternate
Joel Gresham
Would you like to join?
To learn how you can become a member on our boards, please contact our office.